Happy St. Patrick's Day! All in all, St Patrick's Day is an occasion for friends and family alike to come together and enjoy one another's company.
Celebrate this day with a fun and fashionable manicure featuring bright colors, glittery accents, or traditional symbols! With so many creative possibilities when it comes to designing nails, there is no shortage of options when it comes to finding the perfect look for your holiday celebration.
Whether you're looking for something simple and understated or bold and whimsical, there are plenty of designs that will help you show off your Irish pride.
From shamrocks and four-leaf clovers to vibrant green manicures, here are some of our favorite St. Patrick's Day nail ideas that will have everyone green with envy!
Add a touch of sparkle with glitter accents or go traditional with classic gold foil for a timeless look. No matter what style you choose, get ready to make your nails stand out this St. Patrick's Day!
1. Shamrock Sparkle Nails
2. St Patricks Day Shamrock Nail With Celtic Design
3. Irish Pride Nail Design
4. Pot Of Gold Nails
5. Festive St Patricks Nails
6. Over the Pot Of Gold St Patricks Day Nails
7. Lady Leprechaun
8. St Patricks Leprechaun Pot of Gold Clover Hat
9. St Patricks Leprechaun Pot of Gold Clover Hat
10. Wavy St Patrick Day Nails
11. Sparkly St Patricks Day Nails
12. You're in Luck St Patrick Day Nails
13. Silver Glitter Ombe St Patrick's Day Nails
14. St Patricks Kiss Me Im Irish Leprechaun Clover Nail Art
15. St Patricks LOVE Irish Leprechaun Hat Green Clover
16. St Patricks Lucky Charm Nails
17. White Irish Lucky Nails
18. St Pattys Argyle Nails
19. St Patricks Clover Lucky Leprechaun Hat
20. Luck Of The Irish Nail Designs
21. Shamrock Green And White With Glitter Nails For St Pattys
22. St Patricks Day Green and Gold Nails
23. French Shamrock Clover Nails
24. Ombre Matte Summer Nails
25. Four leaf Clover And Kiss Nails
26. Classic St Patricks Day Clover Nails
27. Rich Green St Patricks Nail Design
28. Basic Shamrock Green Nails
29. Rich Green Glitter Nails
30. Pot Of Gold Irish Nails
31. St Patricks Day Gold Charm Nails
32. St Patricks Holiday Vibes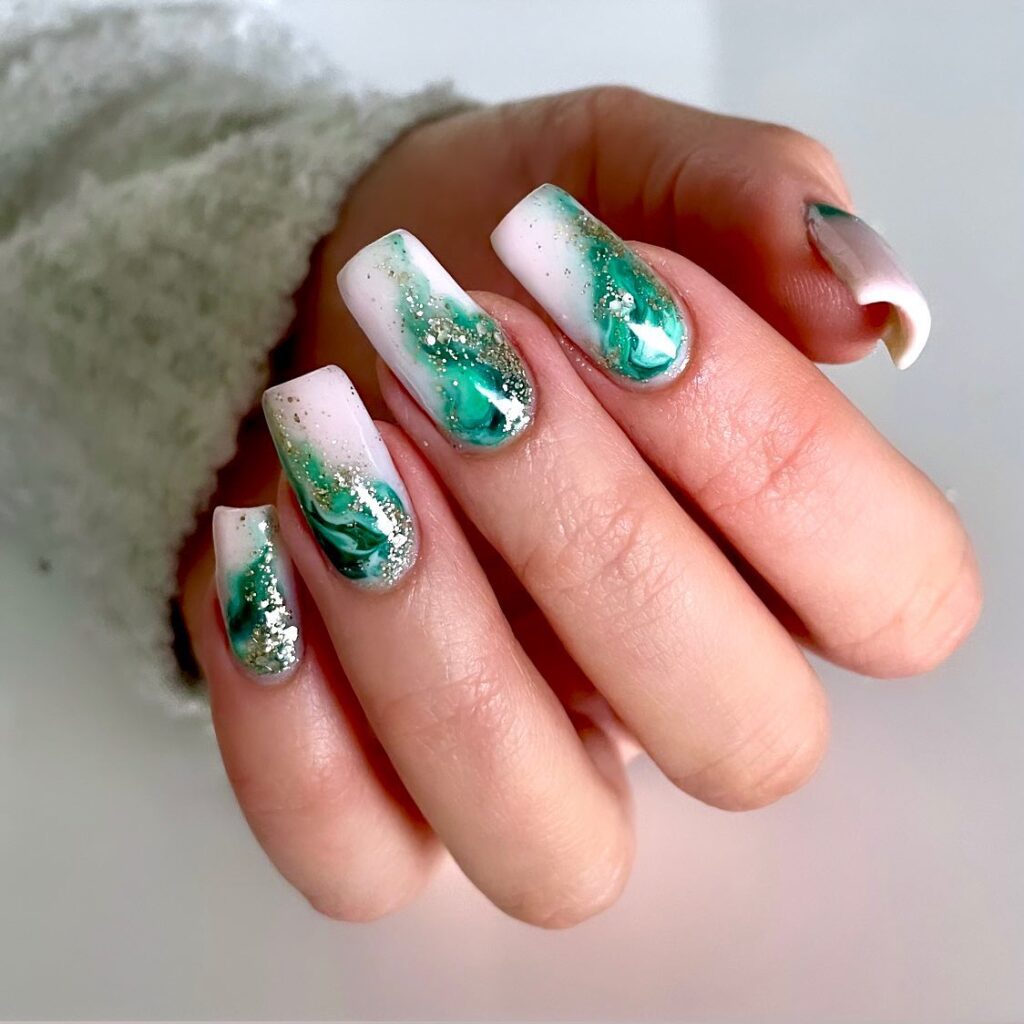 33. Bold Green Glitter St Patricks Nail Designs
34. Bright Green And Rainbow Nails
35. Festive St Patricks Nails
36. Rainbox Glitter Nails For St Pattys
37. French Tips St Pattys Day Nails
38. Shimmer Gold And Green St Patricks Nail Designs
39. Mint Green Tips St Patrick Day Nails
Enjoy Your St Patricks Day With Some Festive Flair
Happy Celebrating! Let your nails be a reminder that every day is a chance to be lucky. Creating the perfect look for St. Patrick's Day is easier than ever with all the creative options out there.
You can channel your inner Irish spirit with a classic four-leaf clover or go full out by adding rainbows and lucky charms in intricate ways. Whatever you decide, be sure to add some sparkle and flair to make it your own!
Have fun with your St Patrick's Day nail designs and don't forget to wear something green! May you have the luck of the Irish today and all year round. Cheers! 🍀🎉☘️💚