Apart from the getting glammed for Valentine's Day and get the cutest Valentine's Day dress for a date night with your partner, you CANNOT forget getting your nails done to level up your Valentine's look and make it worth it.
It's high time to hunt the best Valentine's Day nails to create the best Valentine'sDay nail design of your life. When we say Valentine's Day nails, everyone thinks it's the classic 80s red pink color for a simple nail design. However, have you ever imagined a polka dot Valentine's nails, or layered heart nail design? Y
our Valentine's nail design won't only be unique, but your friends and family will want to create the same design even not for Valentine. Whether your aim is to find simple short Valentine nail designs, classy almond shape Valentine nails or even exaggerated Valentine nails, we've got you covered.
By the end of the article, you'll be able to decide on what Valentine nail design you'll bring to your nail artist and upgrade your Valentine's manicure.
1. French Almond Valentine Nail Tips
These French tips -inspired nails are a great way to keep your Valentine's Day manicure classic and chic! These almond-shaped tips create a timeless look that's perfect for the romantic holiday. The bold red base colour is also an ideal hue for the occasion, and you can even choose to add some sparkle for extra glamour.
2. Layered Hearts Valentine's Day Nails
These layered heart nails are sure to make heads turn this Valentine's Day! With a variety of shades and shapes, you can customize these nails to fit your own style.
3. French Romantic Nails with Pearls
This nail look is not only romantic, but also incredibly elegant. Start by painting your nails with a softer pink shade and then add white pearls around the base of each one. You could also use some sparkling gems or rhinestones to get a more glamorous effect.
4. Sparkly Valentine's Day Nails
These heart nails are so pretty and perfect for the occasion! They feature a light pink base with sparkly silver sparkles along the tips. The simple yet elegant design is great for all levels of nail art skill.
5. Valentine's Mix and Match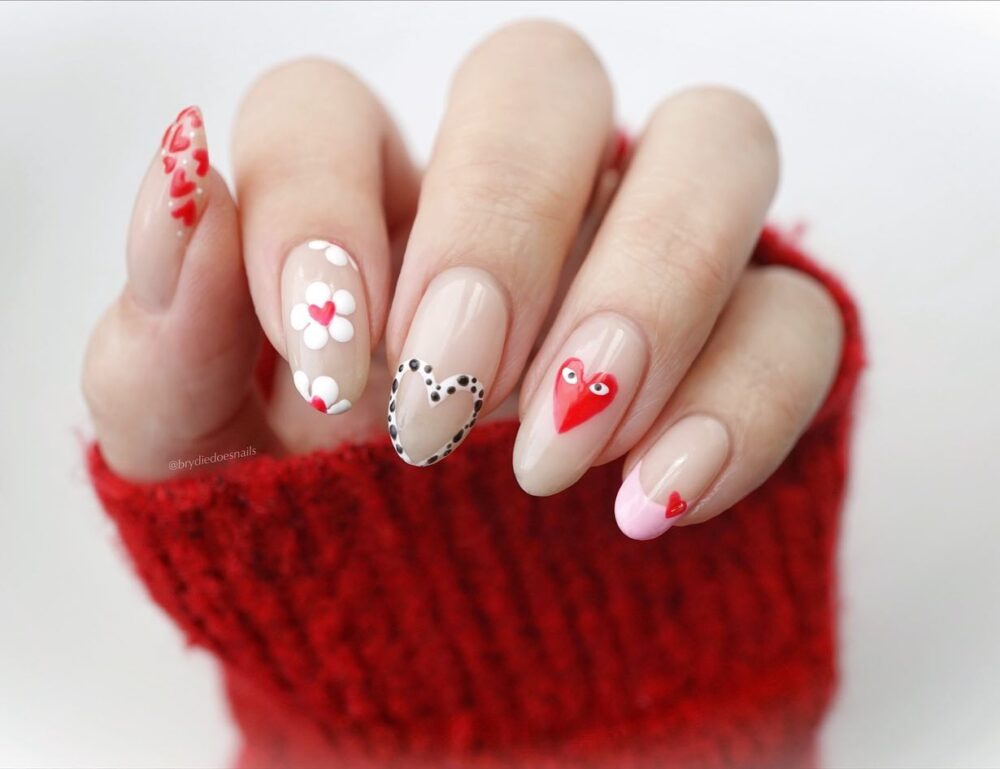 Let your creativity shine with this unique Valentine's Day nail design. Each nail features a different design and color.
6. Red Hearts Waterslide Nail Decals
These beautiful red heart nail decals are the perfect way to add a romantic touch to your nails. The designs feature an intricate mix of hearts, swirls, and other shapes in shades of pink, red and silver.
7. Pink Valentine's Day Nails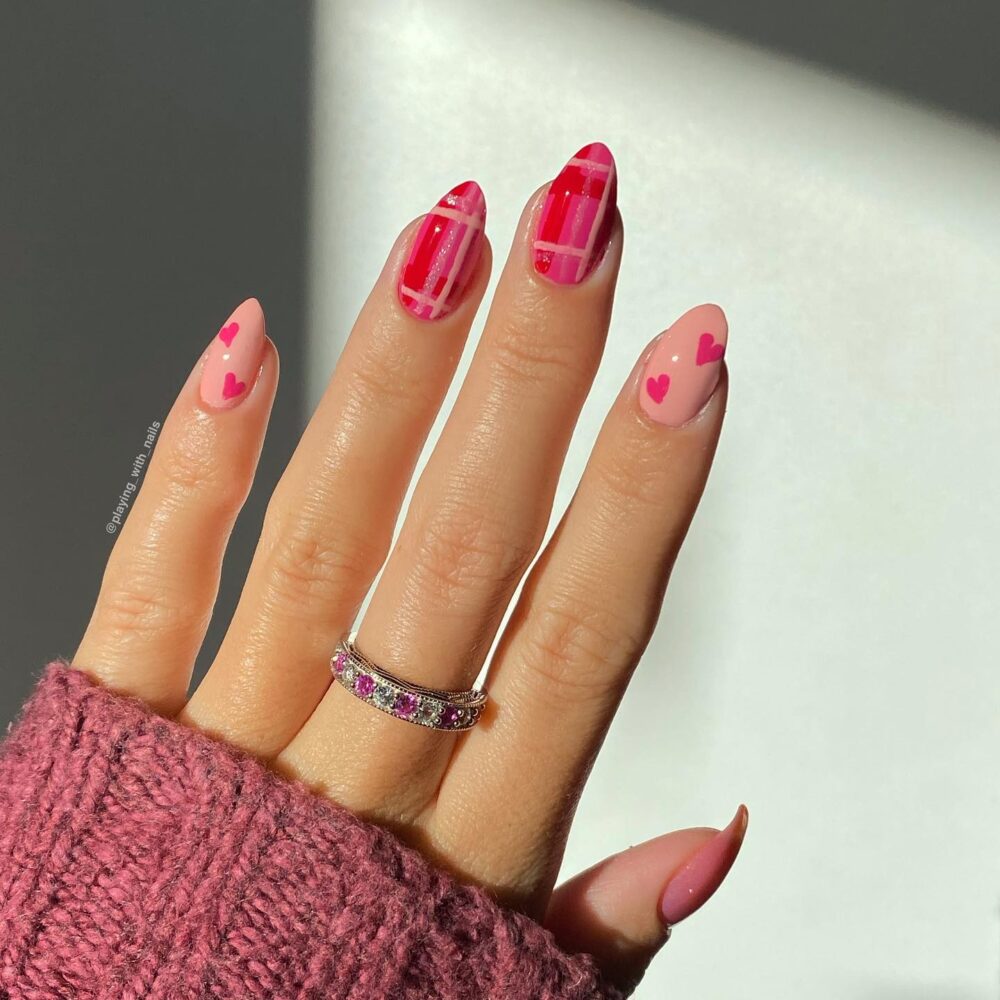 These fun and flirty pink Valentine's Day nails are perfect for making a statement and showing your love. Why not go all out with ombré glitter, negative space hearts, or just one bold pink shade?
8. BIAB Valentine's Manicure with Mini Hearts
These light pink nails feature hand-painted hearts, making them a perfect way to show your love on Valentine's Day. Add some white glitter tips to make the design even more festive.
9. Classic Love French Tips Valentine Nails
Simple yet sophisticated, French tips are a classic style of nail design that will never go out of fashion. For Valentine's Day-themed nails, consider adding some lovey-dovey decorations like hearts or red and pink glitter to make your French tip look more playful and romantic.
10. Valentine's Polka Dot Valentine's Day Nails
These fun a flirty Valentine's Day nails are perfect for the season of love. Polka dots give an unexpected twist to your manicure, while still being feminine and sweet. You can also choose festive colors like red and pink to really make them pop.
11. Valentine Clipart Nails
These nails are full of love and fun! Add some clipart to your manicure this Valentine's Day with these cute nail designs. Whether you choose hearts, roses or other symbols of love, you'll be sure to stand out from the crowd with this creative and unique design. Plus, these nails are perfect for any occasion – not just Valentine.
12. Queen of Hearts Nails
These bold and beautiful nails feature a striking queen of hearts design! Perfect for any rule-breaker in your life, these nails will add the perfect sass to your Valentine's Day manicure.
13. Scarlet Red Valentine's Day Nail Design
Make a statement with a classic Valentine's Day color: red. Red nails bring the right amount of drama and romance to your mani, and choosing a hue like scarlet red adds an extra bit of boldness that is sure to get you noticed on V-Day. T
14. Black and White Half Moon French Tips
These cute but edgy French tips bring a sharp contrast to your traditional Valentine's Day look.
15. Cherry Valentine's Day Swirls
Add a touch of romance to your look with these cherry Valentine's Day swirls. The combination of light pink, dark pink and white gives this manicure a delicate and subtle feel that is perfect for the holiday.
16. Gold Hearts V-Day Nails
For those who don't like red and pink, there's always gold. These elegant and understated nails feature a thin heart of down the center and a bit of gloss on each nail.
17. Nude and Red Hearts Nails
How about mixing two classic Valentine's Day colors for a softer and subtle look? These nude and red heart-shaped nails use a mix of smooth, glossy nudes alongside pops of sparkly red. This is the perfect way to add some festive flair without being too over-the-top.
18. Blue French Tips with Mini V-Day Hearts
Who said you can't introduce blue to the VDay party? This blue french tip manicure features a single red heart on each nail. The best part? You can add as many hearts as you like, depending on how much sparkle you want. If you're feeling bold, why not add some blue glitter along the tips of your nails for an extra eye-catching look.
19. Stiletto Trendy Valentine's Nail Design
Add some sass to your Valentine's Day manicure with a trendy stiletto nail design. This look features a classic red shade as the base color, with a sharp pink and white V design on top. To complete the look, add some silver gems to give it that extra sparkle.
20. Gradient With Pearls Pink Nails
These are some of the most elegant Valentine's Day nails around. With a soft, ombre-style pink gradient as the background and pearlescent tips, this adorable look is sure to turn heads. For an extra bit of sparkle, add some tiny silver gems for an eye-catching finish.
21. Monochrome Moment Nails
I really dig these classy monochrome nails. It's a beautiful combination of pink, black and white with accent lines to add some texture and sparkle. You can wear this style for any occasion, but it especially comes in handy when you want to look fancy yet still keep the Valentine's Day vibe alive.
22. Flamenco Valentine Nails Idea
If you're looking for a Valentine's Day manicure that is both fun and festive, consider these flamenco-inspired nails. Using pink, red, and white nail polish, create a beautiful design that your friends will love.
23. Pretty in Pink Nails
Looking for a subtle way to show off your Valentine spirit? Consider these Pretty in Pink nails. Start by applying a pale pink base coat and let it dry completely. Then use a heart-shaped nail stamp, or freehand the design if you are an experienced nail artist, to add a few hearts along the side of each of your nails. Finish with a glossy top coat to add extra shine and protect your design.
24. Red Hearts Burgundy Nails
These dramatic red heart nails are sure to set your Valentine's Day vibe. With classic burgundy and a bold red, these nails scream love and passion.
25. Candy Clouds Nails
Ahhh the I like Valentines but not red and pink look — these Candy Clouds nails are perfect for those that want something sweet, but not too over the top.
26. Ombre Polka Dots Valentine Nails
If you're looking for something fun and flirty, then these ombre polka dots nails are it! Perfect for a fun Valentine's Day celebration , these nails show off bright and vibrant colors.
27. Bleeding Heart Nails
Who needs a bleeding heart on Valentine's Day when you can have one right on your nails? These beautiful, yet edgy nail designs will turn heads and get everyone talking!
28. True Valentine's Day Nails
Simple and red , nothing says Valentine's Day more than traditional red and white nail art. Whether you want a plain manicure with some accent heart nails or a full-on design, this style will look great on any occasion.
29. Simple Kissing Nails
A great way to add a subtle romantic touch to your Valentine's Day mani is with simple kissing nails. This look will show off your romantic side without going too over the top. All you need is some white nail polish and a red lips-shaped sticker, then simply place them on each of your nails for a cute and festive look
30. Classy V-Day Nails Design
These classy V-Day nails are perfect for those of you who want to keep things subtle.
31. Colorful Hearts Nails
Hearts are in full effect on Valentine's Day and are a great way to get creative with your nails. Use different colors of nail polish to create a colorful heart design that is sure to make heads turn!
32. Simple Almond Valentine's Nails
I love the simplicity of almond-shaped nails and they are perfect for Valentine's Day.
33. Matte Glittery Pink Nails
For a fun , yet sophisticated look, matte glittery pink nails are the way to go. Pick a soft pink shade with hints of glitter and paint each nail accordingly. To make it special for Valentine's Day, you can add little hearts on your accent nail or even small white polka dots over the entire design.
34. Flame Heartbreaker Nails
I love the contrast between the light and dark shades on these nail designs. The flame heartbreaker design incorporates a range of colors, from light pink to deep red.
35. Forever Love Nails
Check out these elegant and romantic nails! This design is perfect for those who want to show love and appreciation all year round. The Forever Love Nails feature a mix of reds, pinks, and whites, with the addition of some sparkles on the top layer.
36. Strawberry Nails
For those looking for something a bit more casual and fun, the Strawberry Nails are perfect! These nails feature bright reds, pinks, and whites in various shapes and sizes.
37. Blossom and Lemon Tea Nails
These are valentines day and spring -ready nails! For this design, combine a light pink base with bright yellow accents, and add in colorful flowers for a beautiful springtime look.
38. Red Nails with Mini Hearts
These red nails are the perfect choice for a classic Valentine's Day look. The color is bold and eye-catching, while the tiny hearts add an adorable touch without being too over-the-top.
These Were The Best Valentines Day Nail Designs We Could Find This Year
If you're looking to add a bit of flair to your Valentine's Day look, then cute Valentine's Day nails are the perfect way to do it. From hearts and glitter accents to ombre designs and delicate details, there are a variety of fun and unique nail art ideas that will make your special day stand out even more!
Whether you opt for a classic red manicure or something slightly more creative, these cute Valentine's Day nails will have you feeling in the lovey-dovey spirit all day long. With so many amazing options available, you're sure to find a design that puts an extra sparkle in your Valentine's Day celebration.