Food is one of the largest expenses a family can have each month. If you take a moment and look at the average American family's spending, food is one of the most common budget busters people are faced with. That's why I created this list of 14 simple dinner ideas that are budget friendly and delicious.
The USDA-United States Department of Agriculture reported for April 2018 that the average household of 4 spends $885-1056 per month on food. This is a ton of money! Especially considering that many American families waste a large portion of their food each month. Read on to learn some of my favorite simple dinner recipes for families of all sizes.
This article may contain affiliate links, full disclosure here
One of the easiest ways to get your food budget back on track is to begin cooking at home. If you are looking for recipes that are budget-friendly and still delicious, you're in the right place. There are tons of tasty and simple dinner ideas that can be made at home with ingredients you may already have.
The best way to begin planning your menu is to look for meal-stretching recipes. Meal-stretching is being mindful of the ingredients you are purchasing and recognizing that they can be used in multiple recipes. For instance, if you are making beef and bean burritos for dinner one night you can decide to make beef and bean chili the following night. When you are making fajitas you can throw the leftover veggies in your eggs the next morning.
Here are some of our favorite simple dinner ideas that are sure to please
Sizzling Steak Fajitas
Fajitas are a great way to get your daily veggies in. The key to this quick and easy recipe is to marinate the meat ahead of time. Once you have the meat marinating you can get to those other chores around the house. This is an easy and healthy dinner idea that you can have ready in as little as 15 minutes and it yields 4. As mentioned above you can throw the leftover veggies in your eggs the next morning.
Chicken Lo Mein
I like this recipe so much, the author admits to having a serious stir-fried noodle addiction just as I do! There is so much a person can do with the various noodles out there. This is a quick and simple dinner idea that only takes minutes. Prep time is 15 minutes. Cook time is 10 minutes. Yields 4
Thai Red Curry With Veggies
Talk about YUUM!!! Asian food is one of my favs. I absolutely love all of the noodle and rice dishes with sweet, spicy, and tart flavors. I'm a sucker for some good red curry. Keeping some coconut milk and curry in your pantry will make this a quick and easy go-to recipe. This is an easy vegetarian dinner idea if you chose to do without meat. Prep 5 minutes. Cooks in 12 minutes. Yields 4.
Black Bean and Rice Burritos
If you are looking for a dinner idea for tonight this could be it. This is one of those quick fix dinners. Burritos are so yummy and versatile. This recipe preps in 5 min and cooks in 10. This is another quick and easy meal that can be your "go to" because more than likely you already have all of the ingredients in your pantry.
Pasta e Fagioli
Looking for a good wholesome meal. This is where it is at. This recipe can be ready in as little as 20 minutes and yields 6. When I am making soup I like to double the recipe and freeze some so I have something healthy to eat in a pinch
Salsa Verde Chicken Enchiladas
The salsa verde in this recipe is what makes this one so good. Salsa verde is a green salsa made from tomatillos, garlic, onion, and peppers. It's absolutely delicious. You can usually find a few options to buy at the store, but if you can't find it or if you're up for a little extra work, make your own! Prep 10 minutes. Cooks in 30 minutes. Yields 4 services

Chicken and Broccoli Shells and Cheese
If you are looking for a dinner recipe with chicken this could be just what you are looking for. This is a perfect comfort food dish for just your family or even a larger group. It's also a perfect dinner idea for kids! To make this recipe healthier you can throw in some extra veggies like cauliflower or red peppers.
Tuna melts
I know sandwiches aren't always a person's "go to" for dinner but if you are looking for what to cook for dinner tonight that is easy this is it! Throw a twist on the old original tuna sandwich. This recipe calls for tuna, of course, tomato, celery, onion, green pepper, finely grated carrots and don't forget the cheese. Yum!
Cheesy Italian Rice with Sausage
Here is another quick and easy one. Prep in 5 minutes cooks in 30 minutes. This recipe calls for minimal ingredients. White rice, onion, garlic, Italian sausage, spinach, mozzarella, cheddar, and lemon
Chicken Stir-Fry
I mentioned above how I really like rice and noodle dishes so I had to toss in a good ole stir-fry. You decide if you would like to make this dish we either rice or noodles. Your choice! This is a great dinner idea with chicken or just veggies. Stir-frys are quick and easy when you've got your ingredients all sliced, chopped and ready to go.
Ground Turkey Italian Sloppy Joes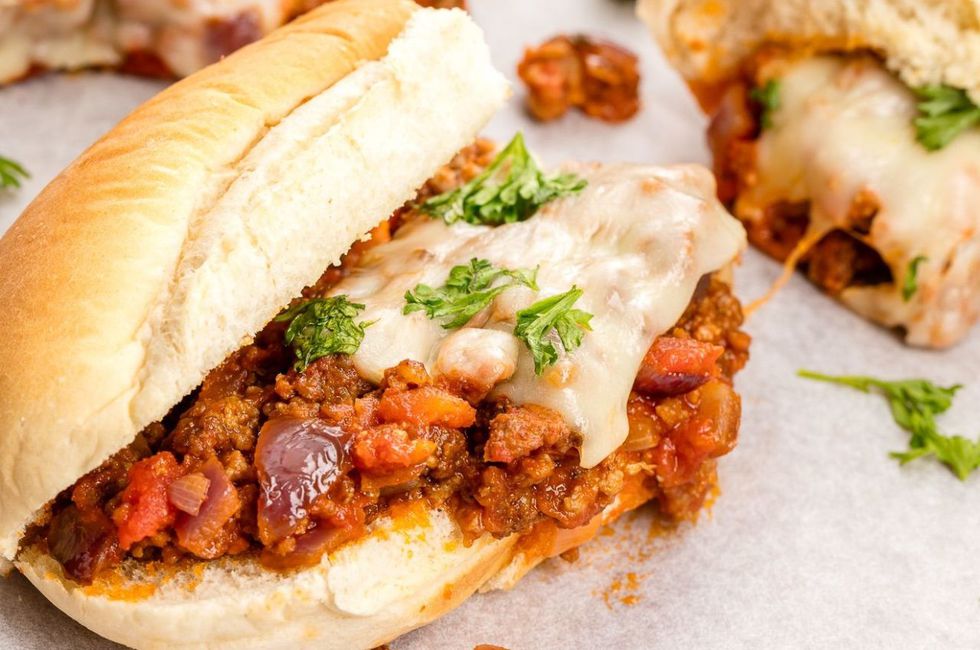 This recipe calls for ground turkey swapped for beef. It gives these sloppy joes an Italian flair. Be careful these can be addicting! Prep in 5 minutes, cooks in 30 minutes. Yields 4
Baked Ziti
I love oven baked noodles. And I love a good home cooked meal. There is something so good about the mozzarella and basil paired with the texture of the noodles. The fact that I don't have to keep an eye on them as the bake is an added plus. This yield 5-6 which means either more for you and your family or invite some friends over. Cooks in an hour.
Simple Black Bean Chili
If you're looking for an easy healthy dinner idea, check out this Mexican-inspired black bean chili. It features ground chuck, onion, bell pepper, and traditional chili spices. If you don't have the ground chuck don't worry just make a veggie chili. Yields 6
Hamburger and Macaroni
This is an American comfort classic. Its a great easy dinner recipe with ground beef. The browned beef cooked in a tomato onion sauce, with elbow macaroni is an easy dinner recipe for beginners. Its one of those quick fix dinners that can be prepped in 5 minutes. Cooks in 20. Yields 4.
I hope you found something here that sounds good to you. If you have more quick and easy recipes that won't break the bank please shoot us a comment below.