Don't get me wrong I love good food. You could set me free in a Whole Foods or Trader Joes and I could cruise those aisles for hours. I love exploring new recipes and trying new ingredients. However, I know when a grocery splurge is ok and I also know when it's time to focus on my budget and start saving money on groceries.
This article may contain affiliate links, full disclosure here
If you are not careful about your food budget you can easily end up spending way too much at the grocery store. I know because I've been there. But the good thing is I've learned what it takes to avoid this. I've learned the necessary steps to stop overspending and begin saving money on groceries.
Did you know that you CAN cut your grocery budget by half and still eat well? The average American household spends $520 on groceries per month. By following these simple steps you can cut your budget by an average of $260 a month and still eat delicious and healthy meals.
17 Tips For Saving Money On Groceries
1. Join Your Grocery Store Frequent Shopper Or Loyalty Program
The number one way to save money on groceries is to join your local grocery store's loyalty program. There's absolutely no reason you shouldn't sign up, it takes about a minute and it doesn't cost you a thing.
You can easily rack up points from your everyday purchases and earn cash rewards to purchase more groceries.
2. Join A Shopping App For Saving Money On Groceries
By signing up with Ibotta or Checkout51 you can save money on the groceries you already buy. These apps let you know which items are eligible for cash back. All you need to do is buy the item and then take a photo of the receipt for proof of purchase!
photo from theclarifiedkitchen.com
3. Make A Shopping List And Stick With It
Spend a little time and make a shopping list. Believe me, it will not only save you money but it will save you a lot of time. The few times that I have gone to the store without a list I end up wandering around aimlessly and I forgot half the ingredients I intended to get.
When you have a list you focus on only purchasing what is on the list. If you see an item that is not on your list, don't buy it -you don't need it. Plan your week, make a list, stick to it.
photo from noshtopia.com
4. Don't Buy Pre-Cut Fruit and Veggies
Yes, of course purchasing pre-cut produce is much easier but did you know that these items can actually go bad much quicker? Buy whole fruits and vegetables then cut and prep them yourself.
You can save the veggie scraps and put them in the freezer to make a yummy veggie broth later in the week.
5. Buy Whole
Not only is buying whole produce much cheaper but you can buy a whole chicken and cut it yourself to save a lot of money. The price of 2 organic chicken breasts at our local grocery store can cost $7-10. I can buy a whole organic chicken for about $15. Buying whole is much cheaper than buying smaller portions.
Photo from Jamie Oliver
6. Grow Your Own Herbs
Fresh herbs can be pretty pricey if you can grow them it's really worth the small investment. Many herbs like chives, mint, basil, and rosemary are super easy to grow. The best way to assure you have fresh affordable herbs throughout the year is to clean and chop them then put them in ice cube trays with a bit of oil and freeze.
7. Meal Planning To Help You Save Money On Groceries
I love the spontaneity of finding a delicious recipe and making it that night. However, more often than not I don't have the correct ingredients in the fridge for this particular recipe.
By meal planning, it can make your life so much easier. Meal planning requires you to think about what you need in advance and check what you already have in your kitchen.
If you have never tried meal planning before, I recommend trying the $5 Meal Plan to get you started!
For only $5 per month, you will receive a delicious meal plan, where every meal will cost about $2 per person (or less). It's a great way to save time and money, plus they offer specialty plans, including gluten-free and vegetarian meals.
photo from Today.com-shutterstock
8. Shop In Bulk Sections To Save Money On Groceries
Buying grains, seasonings, crackers, nuts, and cereals in the bulk sections can save you a ton of money. Buying in bulk will also eliminate the extra packaging that comes with purchasing items from the shelf.
RELATED: Frugal tips for saving money on cleaning supplies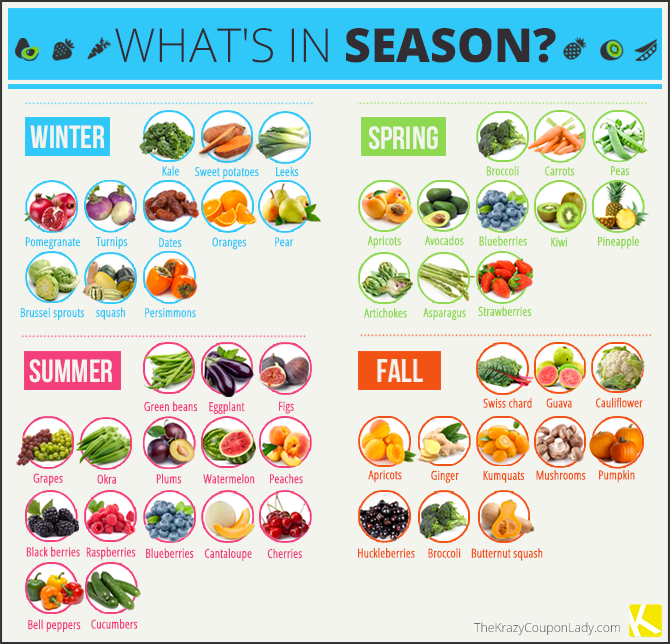 Photo from TheKrazyCouponLady.com
9. Purchase In-Season Produce
Not only does in-season produce taste much better but it's also cheaper. Take note of what is in-season and stock up on these healthy options. Keep in mind that purchasing strawberries during the winter will not only be astronomically priced but they will lack the flavor of oranges which are in season during the winter months.
10. Purchase Generic Brands
Skip the brand names and go with generic. By purchasing generic or "off name brands" you can save a lot of money on groceries. The generic brands are just as good as the popular brand names at a fraction of the cost.
If you are looking for a cheap online retailer for "off name brands" we have been VERY impressed with this company.
Photo from Thetravelpharmacist.com
11. Buy Organic Only When Necessary
If you are going to buy organic start by purchasing items that are on the Dirty Dozen list. There are many popular fruits and veggies that are on the clean fifteen list and you can save money by buying non-organic from this list.
12. Cook A Double Batch Of Something And Freeze It
Make a big batch of soup, stew, chili, or lasagna all these meals are easy to freeze. You can make these items when the ingredients are on sale, and in season, and freeze for a later time when you are searching for a quality home cooked meal.
13. Eat Less Meat To Save Money On Groceries
I'm not saying to go 100% vegetarian but strive for "Meatless Mondays" every once in awhile. Meat is often the most expensive part of a recipe and something you can easily cut back on while still having a balanced diet. Try cheaper options like eggs, lentils, and beans in your casseroles, salads, and pasta.
14. Buy Whats On Sale And Freeze For Later
Watch out for good sales while at the grocery store. Then stock up and fill your freezer with these items so you don't have to shop for them for a couple of months. Properly wrapping items such as meat, bread, butter, vegetables, and even some cheeses will preserve their quality and assure they are fresh for a couple months.
15. Stop Throwing Away Food Scraps You Can Use
The best way to use your scrap ingredients without putting them into the trash is to throw your leftover veggies or those that are close to expiration into the freezer.
When I am looking for a good homemade veggie broth I toss all my veggie scraps into the crockpot and let it simmer. Not only is this broth much better tasting than store bought it is also much cheaper.
16. Don't Go Shopping On An Empty Stomach
If you go to the grocery store while hungry you'll be tempted to buy more high-calorie snacks and foods you don't really need. We all make bad grocery decisions while hungry.
Only go shopping after a healthy filling meal. Doing this simple step will help you stick to your grocery budget and avoid unhealthy food choices.
photo from queenbeecoupons.com
17. Make a Budget
By knowing how much you would like to spend you can avoid making frivolous purchases at the grocery store. Creating a budget allows you to track your spending and know when you are getting close to your max budget for the month.
Prior to creating a budget, I couldn't believe how much I was spending at the grocery store. Now that we have a budget we are able to keep our spending under control
Related: How To Create A Budget
Final Thoughts For Saving Money On Groceries
It really is possible to begin saving money on groceries! By creating a budget, staying focused and implementing the tips above you'll be surprised at just how much money you are able to save.
Do you have any tips, tricks or secrets to share about saving money on groceries? Leave us a comment below we'd love to hear from you.