Did you know you can actually make money by taking online surveys? It's true AND legit! Doing online surveys from reputable survey sites is possibly the EASIEST way to make money online. The best part is you can do it in the comfort of your own home!
Of course, you're not going to get rich by answering a few questions. However, it's an easy way to make money from home in your spare time. And hey, if you put in a bit of extra effort you could easily put away a few hundred bucks in rewards a month. Not too shabby for giving up your fabulous opinion!
I've been taking online surveys that pay cash for a couple of years now. It's been an easy way to make extra money in my free time and it doesn't require any upfront costs to get started.
You're literally making money just by giving companies your opinion on certain products and topics. Sounds pretty sweet, right?
Reasons For Taking Online Surveys
I've used the cash I've made from online surveys to help pay for:
Vacations
Gifts for friends
Nice dinners
Massages
Debt
Why not learn how to make some extra cash in your free time?
RELATED
Word of Caution About Survey Sites
Here's the thing, there are dozens of survey sites offering paid online surveys for money. Some are good some not so good. I've done all the research for you and I'm here to provide you with the survey sites that are worth spending time on.
Tips and Advice to Maximize Your Online Survey Site Earning Potential:
It's best if you sign up with several of these survey sites so that you give yourself the best shot at being eligible for multiple opportunities. More opportunities =more money.
Also, keep in mind some survey companies offer surveys infrequently- survey every other day. So signing up with multiple companies allows you to keep that money trickling in.
Keep yourself organized by keeping all of your survey information organized in your email inbox. Also, remember your rewards aren't available forever, so cash out when you've reached the point where you can redeem your cash or points.
9 Highest Paying Online Survey Sites For Making Extra Money Fast
1. Survey Junkie
My favorite thing about Survey Junkie is how straightforward the platform is and how quickly you can start making money.

Survey junkie is a platform that has over 3 million participants and is incredibly popular. It has an easy to use interface, has a good selection of surveys and pays via Paypal or Gift Cards.
You may be wondering how does it work? Much like other survey sites, it is free to join. You simply give your opinions to help popular brands improve their products.
They offer all kinds of market research surveys some that are very quick to finish and some that are much more in depth requiring a phone call or testing of a product.
Survey Junkie works on a points system where you earn points by completing online surveys which can pay anywhere from $2-$75 per completed survey. The longer and more detailed the survey obviously the higher the pay. 1000 points accrued with Survey Junkie translates to $10 cash money.
You can join Survey Junkie right here
2. Swagbucks Survey
Swagbucks is one of my favorite survey sites and the one I have been with the longest. It is a well respected company and one of the largest within the online surveying world. The interface is very user-friendly so you can sign up and begin making money quickly.
Swagbucks is different from the other companies because not only do they have lots of surveys but, you can also make money from doing a couple extra tasks such as:
Using the Swagbucks web search tool (includes $5 bonus)
Watching videos (includes a $5 bonus)
Playing games
Using their cashback program for online shopping (includes a $5 bonus)
Printing coupons
I recommend using the Swagbucks web search tool for your everyday web browsing so you are able to gather points quicker.

Here's how it works: for every survey you take, you are compensated in "Swagbucks", also called SBs. You accumulate SBs, then convert them into cash, gift cards, or PayPal credit (aka cash).
Register here for Swagbucks: Free $5 bonus just for signing up.
3.Vindale Research
Vindale Research is another well-established survey site that has been around for a very long time. They always have lots of surveys available and are one of the higher paying survey sites.
The payout for Vindale Research is usually around $10-$15 per survey. However, sometimes you can get surveys that pay up to $50, which is pretty great quick money!
Similar to Swagbucks, Vindale Research is creating more and more ways that their users can make more money other than just partaking in surveys.
One cool feature about Vindale is that there is no points system; it is one of those online survey sites that pays cash. You complete the surveys – you get cash – simple and straightforward.
One of my favorite features of Vindale research is their daily studies. Daily studies are surveys that change throughout the day. You can participate in the daily studies 10 times per day, and you get paid every time you complete one.
Register For Vindale Research here
4. InboxDollars
Inbox Dollars is one of the best places to take surveys. It's one of my favorites because of the amount of money I've earned and the user-friendly interface. Inbox dollars is a competitor to Swagbucks. One of the biggest differences I've noticed between the two is that with Inbox Dollars you earn straight cash so no need to worry how many SB points you have.
Inbox Dollars operates pretty similar to Swagbucks in that along with online surveys that pay cash there are a number of other ways to make money. You can make money using the Inboxdollars search bar, answering polls, watching videos, or just reading emails.
Register for Inbox dollars here: Free $5 bonus just for signing up.
5. Ipsos I-say
Ipsos I-say. Interesting name, I know! but with with close to 250,000 likes on their Facebook page and over 3 million people who've signed up, Ipsos i-Say is a survey company that has a good following. This is definitely one you should consider signing up for.
Unlike some of the others on the list. Ipsos I-say only does surveys and market research. There aren't videos to watch or points accrued for searching the web. Most surveys on i-Say take an average of 10-15 minutes to complete and for every survey you complete with Ipsos you'll earn points which can be redeemed for Paypal cash or Amazon gift cards.
Sign-up for yourself and see what everyone is talking about with i-Say.
6. Pinecone Research
Pinecone Research is an online website that helps gather information about everyday consumer products. This information goes towards promoting and improving products that we people use daily.
Pinecone Research gathers data by giving surveys that take an average of about 15-20 minutes and they have a couple of new surveys available each week. With this survey site you can earn about $3 per survey, so you can expect to make around $15/hr. Many of the surveys are related to food products or grocery shopping.
After you have accrued enough points, you can cash out your points via Paypal, gift cards, or prepaid gift cards.
Sign up with Pinecone Research here
7. VIP Voice
Vip Voice is a great survey site if you enjoy sweepstakes and giveaways. It gives you cash prizes for sharing your opinions. By simply registering an account you automatically get entered in to win $1,000.
Vip Voice works a little differently than the other paid online survey sites on this list. Each time you complete a survey you'll be awarded a certain amount of point called "VIP Points", these cannot be converted into gift cards or cash.
Instead, these points can be used in exchange for cash prizes by entering a sweepstake and bidding at their online auction. For example, you can use your points to win a brand new TV, various other electronics, vacation getaways, cash, and other products and services.
8. iSurvey World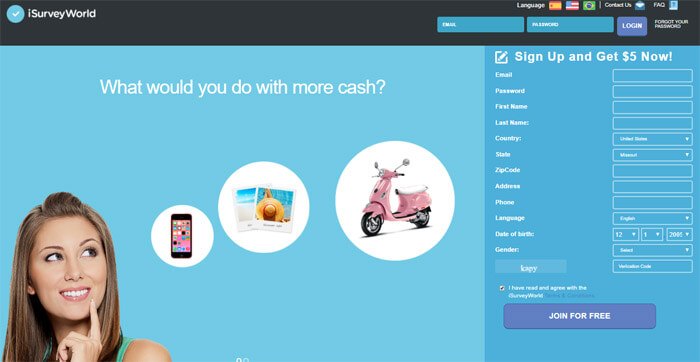 iSurvey World is very straightforward and easy to use. Isurvey keeps its platform very clean and basic without a lot of the frills and extras. It is a very traditional survey site that doesn't have all of the other make money options such as videos, search bar extension and so on.
However, this doesn't mean that it's not a great site to join. iSurveyWorld pays you $5 just for joining the program and all of your earning are paid in cash via Paypal after you've accumulated at least $25 in cash.
Sign up with iSurvey World here
9. Harris Poll
Harris Poll is one of the largest survey sites on the web and has reviews from companies all across the world and in tons of various industries. They have been in business for over 50 years so they know what they are doing. Because of their expertise and longevity they have been recognized as one of the top survey companies across the globe.
And, they offer some exciting rewards. Besides surveys, you can also join focus groups. Sometimes, you can share your shopping purchases for pay too.
With Harris poll you earn points that can be redeemed for gift cards once you hit 1,250 points.
Sign up with Harris Poll Here- you get 75 points just for joining!
RELATED
Best thing about doing paid online surveys
The best part is you can do any of these are your own schedule! You choose how few or how many surveys you would like to do. Waiting in line at the post office? Why not do a survey? Commercial break on TV? Another great opportunity to do a survey and make some extra cash.
Do you have a favorite survey site that you make a good chunk of change from? We'd love to hear about it.