Ideas For The Best Valentines Day Home Decor
Valentine's Day is the perfect opportunity to show your loved one how much you care with special decorations. Whether you're looking for something simple or a bold statement, there are plenty of options to choose from.
From classic red and pink hearts to glittery banners and vibrant floral arrangements, Valentine's Day decor can add a touch of romance and cheer to any living space.
For an extra romantic atmosphere, consider lighting scented candles or stringing lights around the room. And don't forget about adding delicious treats like chocolate truffles and candy hearts!
Whatever type of decorations you choose, it will surely make your Valentine's Day one to remember. Let your creativity take over and get ready to make this day special!
1. Valentine Heart And Love Balloons
Balloons are an easy way to make your home feel extra festive for Valentine's Day. Heart and Love Balloons are a classic choice for decorating, but you can find balloons in all shapes, sizes and colors – from giant hearts to mini cupids!
Consider mixing and matching different varieties of balloons to create a truly unique display.
And if you're feeling crafty, there are also fun DIY projects that involve making balloon garlands or filling them with confetti. Whatever type of balloon decorations you choose, they will definitely add lots of cheer to the room!
2. Valentine's Day Gnomes Decor
Decorations are a wonderful way to add a festive spirit to your home for the most romantic day of the year. If you want to make a statement, try adorning your living space with adorable gnomes decked out in red and pink hats, scarves and hearts.
For an extra touch, tie some ribbons around their waists or hang them from the wall with string lights. Let these little Valentine's Day helpers bring joy into your home this February 14th!
3. Mini Valentine Tree With Lights And Heart Decor
These cute little trees are the perfect addition to any Valentine's Day décor! Each tree comes with LED lights and several heart decorations that can be hung.
4. Valentine's Day Heart Door Wreath
Bring some valentines day love to your front door with a festive wreath. This heart shaped wreath gives off a fun and cheerful vibe and is the perfect Valentine's Day decoration.
Choose a wreath with vibrant colors like pink, red and white, or go classic with an all-red design. For extra sparkle, you can add glittery ribbons and bows to your wreath. It will look beautiful on any door and make your home feel even more inviting!
5. Hanging Valentine's Day Heart Decorations
Decorate your room or hallway with heart-shaped decorations for a festive touch. Red and pink paper hearts or felt cut outs can be used to create wall hangings, garlands, or even banners.
Try using sparkly shapes covered in glitter or metallic fabric for an extra special effect. You can also DIY decorations by cutting out hearts from scrapbook paper and stringing them together with yarn or ribbon.
6. Valentine's Day Throw Pillow Covers
Cover up your old pillows with some festive Valentine's Day designs! Throw pillow covers are a great way to add color and interest to your living room without spending too much money.
You can choose from an array of styles, ranging from minimalist pink hearts to over-the-top rainbow confetti prints. Best of all, they're incredibly easy to switch out when the season is over.
7. Valentine's Day Candy Jars
Sometimes its the simple touch like a Valentine's Day candy jar that can make your home feel extra festive. Fill a glass jar with candies like M&Ms, Hershey's Kisses and conversation hearts to add a sweet surprise to any room.
Place it on the counter or dresser for guests to enjoy, or use it as an item in your gift basket. You can even get creative and use different colored ribbon and glitter to decorate the outside of the jar.
8. Valentines Table or Shelf Decor
A simple statement piece can go a long way when it comes to decorating a table or shelf. This Valentines day decor is perfect for showing your love and appreciation.
Rotate seasonal decorations to give your table a new look each day. Consider a decorative frame with an inspirational quote, or a heart-shaped wreath with ribbon ties.
For a classy touch, you can also fill glass vases with colorful blooms such as roses and daisies, or add a few votive candles in shades of pink, red, and white.
9. Valentines Day Table Runner
A simple table runner is always a great way to add some Valentines Day flair to your home.
Whether it's a solid red or pink color, with hearts, stripes, polka dots, or any design you can think of – it will definitely set the mood for the day. Add some greenery and flowers atop it for an even more romantic feel.
10. Valentines Decorative Hand Towels
Simple hand towels are an easy and inexpensive way to add a special touch of seasonal decor to your table. Look for festive designs like hearts, polka dots or bright colors on the towels to create a cheerful atmosphere.
You can also find personalized hand towels with your family's names printed on them for added charm.
11. Make A Heart Wall With Heart Balloons For A Valentine Decoration
A wall made of heart balloons is a Valentine decoration that is sure to bring some joy and color into your home.
This simple DIY project requires only a few supplies, including balloons of various sizes, ribbon and/or string, scissors, and tape.
Simply blow up the balloons and attach them together by tying them off with the ribbon or string. Assemble the pieces on the wall in whatever shape you'd like to create! This will make your house look festive and cheerful for the occasion.
12. Valentine's Day Ornaments For Decorating
If you're looking to add a bit of sparkle to your home this Valentine's Day, why not opt for some festive ornaments?
Whether it's hearts and cupids or glittery stars and moons, ornaments can create a cheerful look in any room.
Hang them from windowsills, place them on shelves, or dangle them from the ceiling — wherever you decide to put them they are sure to bring a smile to your face when you see them!
13. Valentines Day Decorated Tree
A festive tree with red, pink and white ornaments can be a really nice touch. Hang tons of hearts, ribbons and other decorations to make it look like a true Valentine's Day tree.
14. Front Door Banner Entry Valentines Decorations
This lovely and festive decoration is perfect for welcoming guests into your home on Valentine's Day. You can choose any phrase or saying that you would like, and make sure to add a pop of color with some garland or decor.
15. DIY Table Or Shelf Decorations for Valentines Day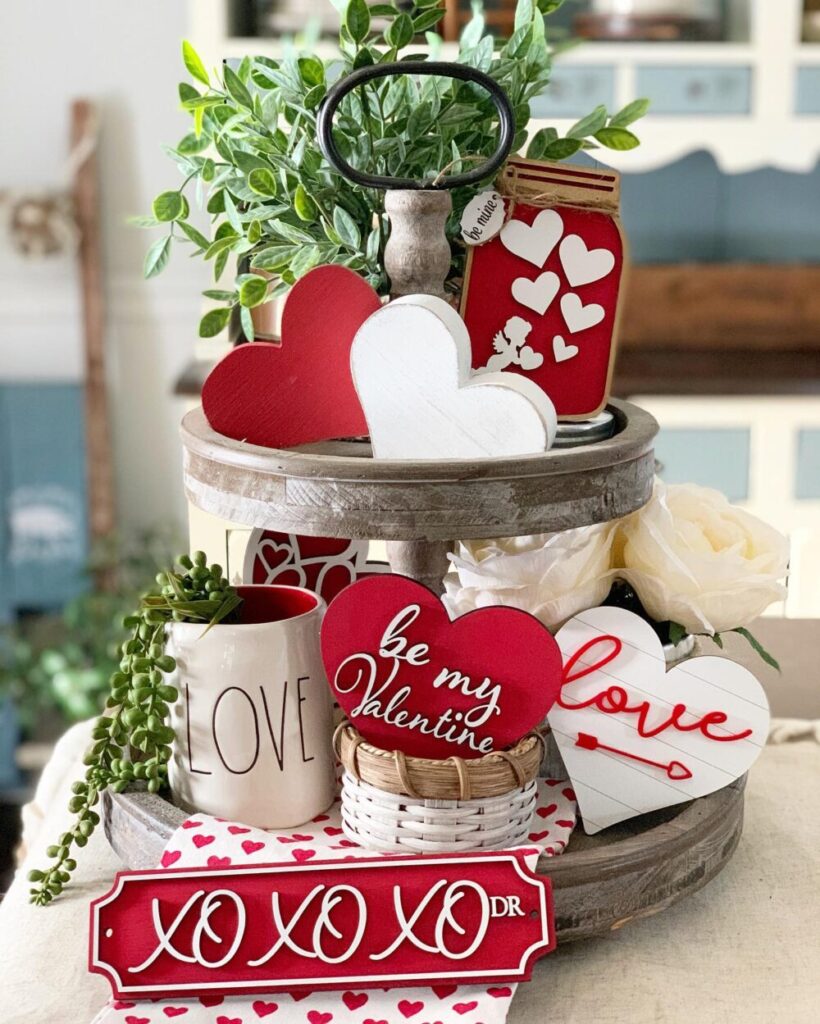 Show your creativity this Valentines Day by making your own decorations! There are so many fun and easy crafts you can make to add some love to your home.
Consider creating mini bouquets with paper flowers, mason jar luminaries, or a string of garland made from tissue paper hearts.
You can also make planters out of teacups and saucers, place cards from construction paper, or an advent calendar with sweet treats inside.
16. Front Door Valentines Day Wreath
A welcoming valentines day wreath for your front door is the perfect way to greet guests and show everyone that you're ready to celebrate love. A classic option is a heart shaped wreath with pink, red, and white accents. Or if you want something more unique, try a colorful florals or one adorned with ribbons and ornaments.
17. Valentines Day Wall Hangings
These bold and beautiful decorations will make a bold statement on your walls. Choose from romantic sayings, hearts, or other designs to show off your festive spirit.
18. Valentines Day Wooden Heart Decor
This classic Valentine's Day decoration is perfect for adding a romantic touch to your home. Wooden hearts come in all sizes and colors, making it easy to find the perfect one for your decor.
Hang them from doorways or walls, or place them on kitchen counters. You can even use them as centerpieces by adding some fresh flowers or colorful ribbon!
19. Wooden Love Sign For Bedside Table Or Shelf
This bright and cheerful sign is perfect for any bedroom! Featuring a sweet message and painted with a bright pink finish, it adds just the right amount of Valentine's Day cheer to your space.
Place this wooden love sign on your bedside table or shelf for an extra romantic touch.
20. Simple Bedroom Decorations For Valentines Day
Create something simple and sweet for your bedroom with a few heartfelt touches. There's no need to go over the top ; a few modest decorations can be enough to show the love.
21. Transform Your Living Room For Valentines Day
Brighten your day and your living room with a pop of color by adding these festive touches Add some Valentine's Day themed accents such as hearts, ribbons, and banners to the mix for an extra festive touch.
Create a cozy atmosphere with scented candles that evoke love and passion. To really get in the spirit, hang heart-shaped balloons from the walls or ceiling. Fill up matching vases with pretty blooms to complete your romantic decor set-up!
22. Simple Old Fashioned Valentines Decor
This simple display of hearts and banners is perfect for those who prefer a more traditional look.
23. Simple And Pretty Front Door Decor For Valentines
This simple but cheerful front door display ensures a warm welcome for your guests. . Add some vibrant potted plants and light up the doorway with decorative lanterns. Or simply keep it as it is nice and simple yet welcoming.
24. Bring The Heat To Your Kitchen With This Valentines Day Decor
This bright and cheerful kitchen is sure to bring a smile to your face. Start by adding a few colorful hand-painted hearts onto the wall, or even better – make them out of paper and hang them with string from the ceiling!
Place festive garlands around cupboard doors and windows, and add a few vases with fresh flowers for an extra special touch. For added charm, hang up some Valentine's Day-themed bunting in front of windows and around door frames.
25. Fun And Chic Valentines Decor
This display will infuse your living space with a splash of color and fun. Gather together some colorful balloons, paper hearts, flowers, and ribbons to create a cheerful bouquet in the corner of your room.
Hang up banners around the area and add some pillows to complete the look. Not only will it be an eye-catching display, but it will also remind you to enjoy all that love has to offer this Valentine's Day!
26. Skinny Valentines Day Tree And Decor
This skinny corner display is perfect for smaller spaces! The light-up tree centerpiece marks the holiday in an eye-catching way and can be accessorized with hearts, glittery garlands, and red-and-pink floral sprays. Throw in a few Valentine's Day balloons to complete the fun look.
27. I Love You Valentines Day Balloons
Nothing says I love you like balloons! Perfect for any romantic setting, these vibrant balloons come in all shapes and sizes. From helium-filled hearts to I love you messages, these decorations will bring an instant smile to your special someone's face.
Wrapping Up The Perfect Valentine's Day Decor For Your Home
This Valentine's Day, add a romantic touch to your home with these beautiful decor pieces. From wall art and throw pillows, to hanging decorations and floral arrangements – there are plenty of options to choose from!
Get creative and have fun while you create the perfect love-filled atmosphere for your special someone. With these festive touches, it's sure to be a day you won't forget!