It's getting that time of the year where it's getting a bit colder outside and people are starting to realize that the holidays are right around the corner.  If you walk into any store the employees are hustling and the Christmas aisles are stocked full of holiday cheer.
I completely understand if you are beginning to stress a little bit.  I also get it if in the back of your mind you are wondering how you can enjoy the holiday season when your budget is so tight.  
If the thought of purchasing gifts while you are living paycheck to paycheck is overwhelming or even a little bit depressing don't you worry.  I have some creative homemade gift ideas for you.
No one wants to start the New year off in debt. That's why I  came up with a great list of DIY items that your loved ones will appreciate and actually really enjoy.
Did DIY give you a bit of scare because you aren't the crafty type? These are easy I got you! I found ideas for most ability and skill levels. Honestly, these are ideas that are cheap and don't require you to have any prior Suzie homemakin background.  The best part is some of these gifts can be made with things you already have around the house— Cha-ching! We just made Christmas a bit easier and gift giving less expensive.
Please keep in mind its the thought that counts during the holiday season, definitely not the price of a gift.   All of these items are great because they allow you to add your little "touch" to make them more personable adding a bit more meaning to the holiday season.
Here are some of my favorite cheap and easy DIY Christmas gifts for everyone on your gift giving list
1. Homemade Lavender Sachets
Everyone loves to be surrounded by a fresh clean scent.  These sachets are perfect to gift someone to add a soothing mild fragrance to any place in their home.
---
2. Crock Pot Gift Basket
During the holiday season, you can usually get slow-cookers for a pretty good deal (I've seen them on clearance for as low as $10). You can add simple ingredients from your own pantry and your own favorite slow-cooker recipes and boom you have the perfect usable gift.
---
3. Winter Survival Kit
This winter survival kit is absolutely perfect. Check out the Dollar store for some cheap glass jars or maybe even Amazon.  I love what she included in this jar. Lotion, ChapStick (always a necessity in the winter months), gloves and fuzzy socks, along with some hot cocoa. If I were you I'd also throw a package of hand and foot warmers in.  You can find them in bulk super cheap here.
---
4. Microwavable Heat Packs
These are perfect to take off the winter chill this holiday season.  A heated pack feels great on cold feet and is also great for soothing sore muscles.  Applying heat to sore muscles helps soothe tightness and promotes better blood flow.  I was given a microwavable heat pack many years ago and still have it to this day.  These are perfect gifts for the active people in your life.
---
5. Zesty Snack Mix
Zesty Snack Mix from Paula Deen (and The Stone Rabbit)
Who doesn't like an edible gift during the holiday season? We all get so many sweets during the holiday season why not balance it out with some savory!
---
6. Lavender Coconut Oil Salt Scrub
A nice freshly scented salt scrub is perfect for the winter months when your skin is a bit dry.  Using a lavender scrub is not only stress relieving but it is great for your skin. If you need a wake me up for the morning switch it up with some peppermint.  I love getting my oils from here.
---
7. Upcycled T-Shirt Bag
Are you one of those people who have a million bags but could always use another?  Me too!  This bag is perfect for throwing your gym clothes in or a quick run to the grocery store.
---
8. Wine Caddy
This is great for the wine lovers in your life!  You can always find some cheap wine glasses at the Dollar Store and hit up Trader Joes for some of their cheap wine.
---
9. Coffee Lovers Basket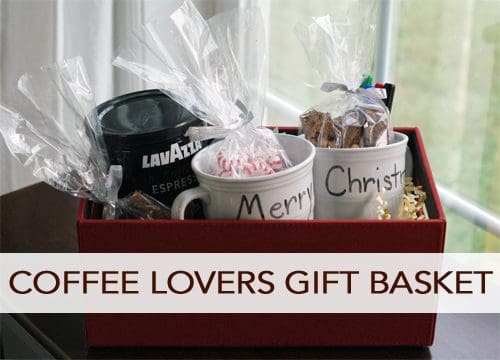 This is my favorite of all.  My day doesn't start till I've had my steaming hot cup of Joe.  You can decorate a few mugs with Sharpies to make this gift really personal, then fill them with homemade biscotti, or mints. Include a bag of your friend's favorite coffee and you are good to go!
---
10. Slippers Gift Idea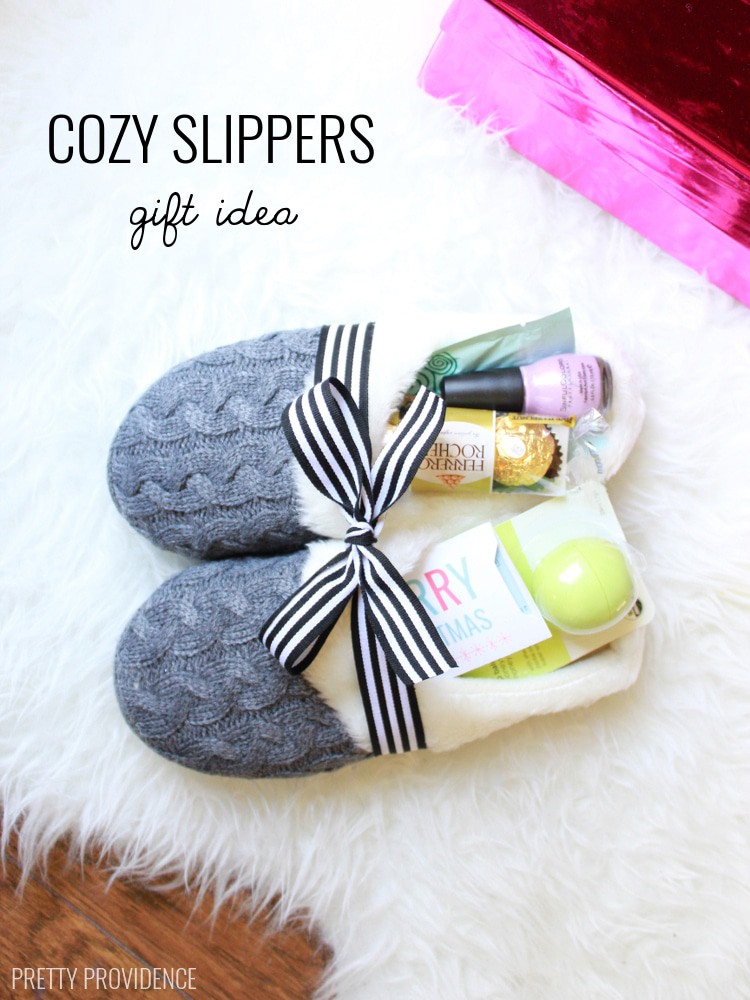 This is such a great gift for the holiday season.  Everyone loves some warm and cozy slippers during the colder months! A little lip gloss, some cute toenail polish, yummy chocolate, and a thoughtful gift card make this perfect for the girlfriends on your gift giving list.
---
11. Clip Frame
These are adorable and so simple.  The best part would be to include a great picture of you and the person you are gifting this to.  They will absolutely love the simple and thoughtful gesture of this gift.
---
12. Personalized His And Her Mugs
These are absolutely perfect for a couple in your life or for a handful of girlfriends.  I love the simplicity of the black and white but if you are looking for some festive colors here are some great multicolored sharpies to brighten these mugs up.
---
13. DIY Leather Clutch
Such a great thoughtful gift for the girls in your life.  This is the perfect little clutch to dress up or dress down an outfit.  This is big enough to hold the absolute necessities but small enough to keep your look streamlined and classy.
Final Thoughts
There you have it my list of 13 unique and creative DIY gifts for all of the loved ones on your list this holiday season. 
If you are looking for gift ideas that aren't DIY but are still affordable check out this list of 27 cheap and affordable gifts.