Graduating from school is a huge accomplishment that deserves to be celebrated! Whether you are graduating from high school, college, or grad school, a graduation party is the perfect way to mark this important milestone in your life.
One of the most exciting parts of planning a graduation party is deciding on the decorations. From banners and balloons to photo backdrops and centerpieces, there are endless possibilities for creating a festive and memorable atmosphere. I'm going to share my favorite graduation party decoration ideas that are sure to impress your guests and make your celebration unforgettable.
So, let's get started and get inspired to decorate for your graduation party!
1. Create A Battle Of The College Graduation Party
Creating a Battle of the College Graduation Party can be a great way to celebrate your achievement while having fun with friends and family. By choosing a theme, decorating, and setting up game stations, you can create a unique and memorable graduation party that everyone will enjoy.
2. Create A Photo Collage Table Of Your Graduate
Creating a photo collage of your graduate can be a wonderful way to honor their achievements and milestones. By compiling photos from different stages of their life, you can create a meaningful and personalized display that celebrates their growth and success.
3. Create A Photo Backdrop Arch For Your Graduation Party
Creating a balloon arch for your graduation party is a fun and festive way to add some color and excitement to your decorations. By choosing balloons in your school colors or other complementary hues, you can create an eye-catching focal point that will set the tone for the celebration.
4. Host A Donut Party (One Of My Favorite Graduation Party Ideas)
Hosting a donut party can be a delicious and fun way to celebrate your graduation. By providing a variety of donuts in different flavors and toppings, you can create a unique and tasty dessert spread that your guests will love.
Plus, you can decorate with fun donut-themed props like giant inflatable donut pool floats and sprinkle-covered tablecloths for a playful and Instagram-worthy atmosphere.
5. Treat Your Guests To A Yummy Graduation Cake
Treat your guests to a yummy graduation cake to celebrate your big achievement!
A graduation cake is a classic way to mark the occasion and can be customized with your school colors, graduation year, and other meaningful details. Plus, it's a sweet and satisfying way to cap off a memorable celebration with family and friends.
5. Make Personalized Photo Collage
6. Host A Boho Photo Booth At Your Graduation Party
Hosting a boho photo booth at your graduation party can be a fun and creative way to capture memories with your guests. By providing props like flower crowns, vintage suitcases, and macramé backdrops, you can create a trendy and Instagram-worthy space for taking photos that will serve as cherished mementos of the special day.
7. Decorate Your Front Door With a Graduation Banner
A graduation banner is a simple and effective way to add a personalized touch to your graduation party decorations. By customizing the banner with your name, graduation year, or school colors, you can create a festive backdrop that will serve as a focal point for the celebration and make for great photo opportunities.
8. Create A Festive Vibe With Lots Of Celebration Balloons
Creating a festive vibe with lots of celebration balloons can be a great way to set the tone for your graduation party. By choosing balloons in your school colors or other complementary hues, and hanging them throughout the party space, you can create a lively and fun atmosphere that will get your guests in the mood to celebrate your big achievement.
9. Top The Cupcakes With Cap And Graduation Year
Top the cupcakes with a cap and graduation year to add a creative touch to your graduation party desserts.
These cute and customizable cupcake toppers are a fun way to add a personalized touch to your celebration and can be easily made using fondant or other edible decorations.
Plus, they're a sweet way to honor your academic achievements and make for a great photo opportunity.
10. Host A Cookie Brunch- A "Smart" Graduation Decoration Party Idea
Host a cookie brunch for a "smart" graduation decoration party idea! This unique and tasty celebration involves setting up a cookie bar with a variety of cookie flavors and decorating tools, such as frosting, sprinkles, and edible glitter. Guests can decorate their own cookies in honor of the graduate, adding a fun and interactive element to the party.
11. Host A Graduation Day Tea Party
Hosting a graduation day tea party is a sophisticated and elegant way to celebrate your academic achievements. By serving an array of tea, scones, and other finger foods, you can create a relaxed and intimate atmosphere for celebrating with family and friends.
Plus, you can decorate with floral arrangements, lace tablecloths, and other elegant details to create a picture-perfect celebration.
12. Make A Custom DIY Wall Hanging In Honor Of Your Graduate
Making a custom DIY sign in honor of your graduate is a creative and unique way to celebrate their achievements.
13. Host A BBQ Texas Style For Your College Graduate
Hosting a BBQ Texas style for your college graduate is a fun and delicious way to celebrate their academic achievements. By serving up classic Texas BBQ dishes like brisket, ribs, and smoked sausage, you can create a mouthwatering spread that will satisfy all of your guests.
Plus, you can decorate with rustic details like burlap table runners and mason jar centerpieces to create a down-home atmosphere that's perfect for celebrating in style.
13. Create A Candy Bar For Your Highschool Graduate Party
Valentine's Day is the perfect time to get together with your friends, let loose and have some fun. Why not host an adults-only game night this year? Get creative with the games you choose – anything from board games to card games will do! And don't forget to provide snacks and drinks for your guests.
14. Celebrate Your Graduate With Polaroids Of The Best Memories
Create A Sparkling Juice Bar With All The Right Fixins'
15. Everyone Loves A Party With Popcorn
16. Bring Back The Groove With A Disco Themed Party
17. Host A Luxury Glamping Party
18. Showcase Your Graduate With Balloons And A Huge Sign
19. Create A Polaroid Station Guest Book
20. Create A Whimsical Graduation Party
21. Graduates Colors Welcome Table
22. Host A Backyard Bonfire Graduation Party
23. Create The Ultimate Graduation Dinner Celebration
24. Create A Themed Welcome For Your Graduation Party
25. Make A Jenga Guest Book For Guests To Sign
26. Host A Casino Night For Your Graduation Party
28. Custom Decorated Cupcakes For Your Graduation Party
29. Yard Sized Customized Congratulations Banner
30. Customized Water Bottle Stickers
31. DIY Centerpieces For Graduation
32. Create Custom Yard Signs For Your Graduate
33. Create A Custom Welcome Banner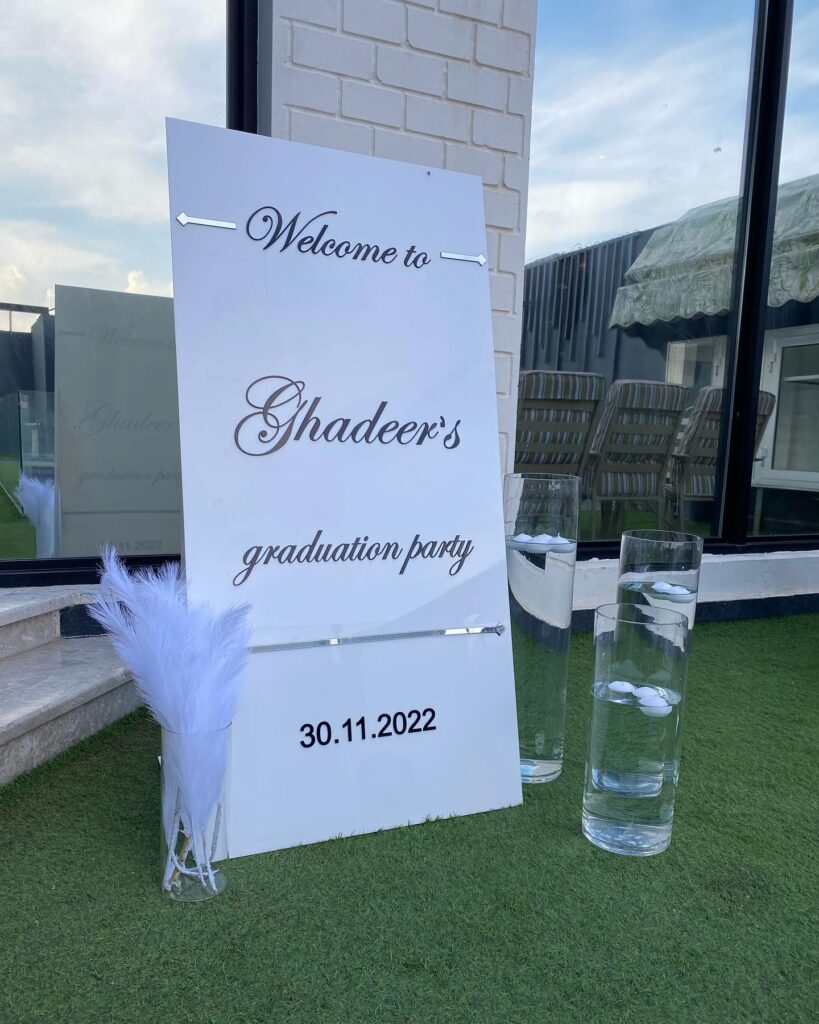 34. Create A Chic Photo Backdrop For Your Highschool Grad Party
35. Lifestyle Celebration Sign For Girl's Highschool Graduation
36. Create A Formal Yet Chic Graduation Party Dinner
37. Create Some Yard Art To Congratulate Your Graduate
Wrapping Up The Graduation Party Decoration Ideas
a graduate party is a momentous occasion and an excellent opportunity to celebrate the graduate's academic achievements. Decorating for a graduate party can be a fun and creative process, allowing you to showcase the graduate's personality and accomplishments.
From incorporating their school colors to incorporating personalized touches such as photographs and memorabilia, there are countless ways to create a festive atmosphere that honors the graduate. Whether you opt for simple DIY decorations or more elaborate setups, the goal is to create a memorable celebration that the graduate and their guests will treasure for years to come.
So, let your creativity soar and create a unique and meaningful graduate party decoration that reflects the graduate's hard work and dedication.